When we go to the gym to do weights it is usual to ask which muscle group to start, small or large?, that is the question. Traditionally it is advisable to start with the large muscle groups or polyarticular because more energy is available and then move to the little ones where you will not need so much.
Although this approach is not entirely wrong nor is considered to be the method always to follow. Everything will depend on the objective of our work because start with small muscles and continue with the great as we will see below is not that it is wrong, but simply another method of working in fitness.
Let's imagine that we are going to do rowing to work the dorsal and then we want to work the biceps, who has tried this it will be noticed that Rowing also involves the biceps and that this just exhausted after exercise, so then put to isolated bicep exercise would be very difficult because the muscle is fatigued. This can be good or bad, depends on what you want to achieve.
And also go to the contrary, begin to work with a small muscle and fatigue it then will intervene if we want to exercise a more global where that same muscle intervenes, obviously can do the second exercise 100% because muscles involved already are tired, but on the other hand we will make more emphasis on big muscle, which will charge nearly all movement.
As we have said both forms are correct, are what are called methods post and pre-fatiga to strengthen the muscle and the use of one or the other will depend on what you want to do with our muscles and our features.Post-fatigue method: with this method we will succeed in having fatigued to the small muscles with global exercises, so after doing analytical exercises is reached before the failure and muscle fatigue.
Method pre-fatiga: Unlike the previous first fatigue a little muscle with isolated exercises so that when doing the global exercise that muscle does not intervene much being fatigued and happens the intensity the rest of muscles involved. This method is interesting when you want muscle failure, already a base of global exercises is difficult to completely exhausting a muscle small, so we were exhausted it previously and then in the global exercise you can reach failure.These methods already commonly used in trained people, by the degree of fatigue which involve and structures must be prepared for the intensity, but they could cause injury.
There is also the option of alternate sessions with global exercises involving large muscle groups with other sessions where to put emphasis on isolated exercises to work every muscle in a more analytical manner.
At the end of which is that each one is most comfortable with his routine of training, ask the monitor is the best way to adapt the training of body building to what you are looking for.
Gallery
MAKING A TRAINING PROGRAMME
Source: slideplayer.com
STRENGTH DEVELOPMENT II.
Source: slideplayer.com
Weight Training Plan – Lasting Training dot Com
Source: lastingtraining.com
Weight Training Bingo Card
Source: www.pinterest.com
Full Body 5-Minute Workout to Give Your Metabolism a Jumpstart
Source: www.spotebi.com
Weight Training Programs For Building Maximum Strength …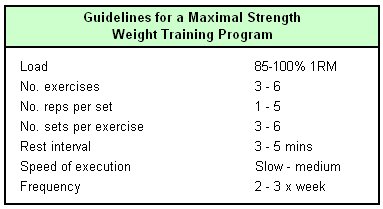 Source: www.sport-fitness-advisor.com
International Rugby Union
Source: gregniclewiscasestudy.blogspot.co.uk
Heavy weights, Zumba and Weight lifting on Pinterest
Source: www.pinterest.com
1000+ images about Fitness: NASM on Pinterest
Source: www.pinterest.com
Cardio: 3 Reasons You're Wasting Your Time, Client of the …
Source: dcfitpros.com
1000+ ideas about Curvy Girl Fitness on Pinterest
Source: www.pinterest.com
17 Best ideas about Dumbbell Workout on Pinterest …
Source: www.pinterest.com
1000+ images about Strength Training on Pinterest
Source: www.pinterest.com
Designing Exercise Programs: *Layout *Muscle Groups …
Source: slideplayer.com
1000+ ideas about Exercise Chart on Pinterest
Source: www.pinterest.com
528 best images about Equipment-Free Workouts on Pinterest …
Source: www.pinterest.com
The Strength Moves Every Runner Should Be Doing
Source: greatist.com
Shape-Up Session: Cardio and Strength Training in One …
Source: www.pinterest.com
25+ best ideas about Cool Down Stretches on Pinterest …
Source: www.pinterest.com
Great Product developed and distributed by Forever Living …
Source: www.pinterest.com